1992 in my Upper West Side railroad apartment at 100 W. 83rd street I was sauteing salmon in butter and lemon while the side dishes simmered alongside in my micro kitchen.  I was preparing to receive my friends for what I dubbed "A Political Party".  I wanted to watch the results of an election (the 1992 US Presidential Election) and thought that was a fine idea for a party.  I had a full-time job as a sous chef at Cafe Popolo on Columbus at 77th (next door to famed and now defunct Isabella's).  I was working as an actor here and there but I was best known for my role as a line cook with a minimum of 50 hours a week.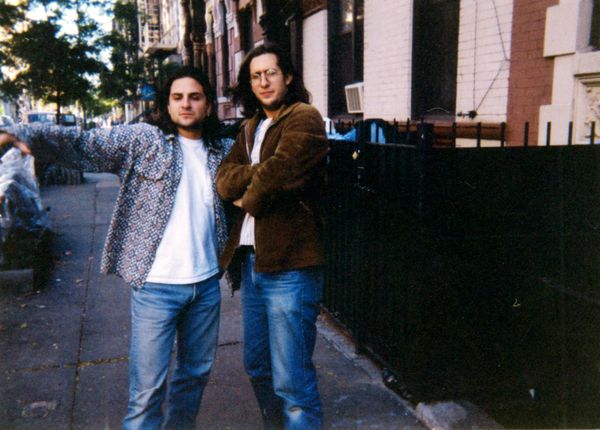 Photo: Phil and Rob in the East Village.  The way we were. The 1990s.
All my friends came over and my salmon was a big hit.  The election results flickered on the muted TV set in the background.  We all laughed and played music and enjoyed each other's company.  I'll never forget that party.  No friendships ended that night.  If your candidate won...congrats, man!  Happy for you.  See you tomorrow.  There was no "Unfriend" or "Block" button or Twitter war to be won.  You'd tell me to my face if something bothered you.  We were young adults after all.
I don't think I could pull off a "Political Party" in 2019.  The current climate is no longer conducive for me to simply invite all my friends over for a dinner to watch election results or, God forbid, speak about politics, without someone completely losing their mind.  My political leanings have shifted since that party in 1992 and perhaps yours have to.  I'm 50 now...not that 23-year-old conquering New York, New York.
I am sure this climate will change and some young bucks in Manhattan will have each other over for a political party with no ill will.  Just a fun time and a moment to enjoy our God-given freedoms here in the USA.  Until then, as my good friend, Jesus, always tells me, "Love one another."
Footnote:  I work in Hollywood in the entertainment industry. I am well aware this is a liberal town.  I was all in with the rat pack when I was fresh off the bus and working as an actor in Los Angeles.  Mind you this was in the 1980s and 1990s.  Nobody really cared if you were a Democrat or Republican back then.
Today I work for a major studio held by a major telecommunications company.  
There is a division within this corporation that is solely focused on diversity and inclusion.  I find it ironic, in my own office and on the wall of my co-worker, that there is an anti-Trump poster.  It is meant to be funny, poking fun at Trump University with a "degree in BS".  Does it really rattle my cage when I look at it every day?  Not really. Is it appropriate in the corporate work environment?  Let's review the standards and ethics documents of this corporation.  The answer is: not appropriate.  Or, as is popular speak today:  That is not OK.
It is funny when an outside vendor shows me a meme from her phone bashing our president.  She assumes I agree with her and that it is just fine to show me such a thing.  Does it rattle my cage or make me lash out in anger?  No.  I told her I support #45.  This surprised her.  I am not another cow in the hate herd. Is it appropriate in this corporate environment?  No.
Do you think I would face disciplinary action if I wore a MAGA hat to work and had a TRUMP sticker or poster hanging up in clear view in my workspace?  Of course, I would.  I would be ridiculed by my co-workers as well.  I remain mostly silent because I work in an environment and time where someone like me has to fly low and avoid the radar.  One might call this a hostile work environment.  
I choose to show up at work every day and do the job I signed up to do.  I want to get paid.  I want to provide my clients with the best possible services.  I'd like to advance in my career. So, I'll not let petty office politics bother me too much but it is certainly worth talking about.  I'm not laying down on the mat for this. There are two sides to every story.