Konstantin Stanislavski remarked that "there are no small parts, only small actors." How many times have you heard that? If you're an actor you've probably heard it here and there as you and your acting career attempt to achieve liftoff.
I started out on the stage (which was a great way to learn and hone my craft) and soon after started getting bit parts in TV and film productions that shot in my hometown of Richmond VA. This only happened because I was a stage actor working extensively in local productions and through this, local casting directors were familiar with me and my work.
Actors either have a job or are looking for a job.  It is a hard row to hoe for sure. I was usually looking for a job, going on countless auditions in NYC, Los Angeles, Richmond VA, and Wilmington NC. I took a ton of acting and improv classes too. There was a long stretch where I had to take a break (to raise a family) and I wound up working behind the scenes for large companies like PANAVISION and Warner Bros. Studios.
I was out of work in Los Angeles and, as much as I did not want to do it...I registered at Central Casting in Burbank CA and started taking extra jobs.  This was humbling because I had experienced the whole, "Mr. Hyland, let me show you to your trailer" when I had booked substantial SAG-AFTRA film or TV roles. So, I felt a bit deflated and defeated but...my kids like to eat. In hindsight, I'm grateful for how it all played out.
So, Central Casting books me as a background extra on the CBS hit, "Everybody Loves Raymond", starring, Ray Romano. I was committed there for the whole week as the director blocked the scenes and the cast rehearsed. I wound up in a school cafeteria scene with the star, Ray (the episode is "A Vote for Debra"). For whatever reason, the scene was not fluid enough for writer, Phil Rosenthal, and he wound up writing me a one-liner. 
That is pretty incredible and that really does not happen all that often.  I was immediately upgraded (per my union's requirements) and the set PA immediately came up to me and told me my trailer would be ready "very soon, Mr. Hyland".  I declined the trailer (I had been there all week sitting on a metal folding chair) and we were already at Thursday night's run through so...no need.  The cherry on top is that my pay scale went up a tier and, to this day, I continue to get a residual payment from this bit part.  So, you see, you just never know! Taking that first step, no matter how humbling, and simply showing up is half the battle.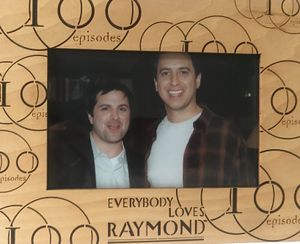 After we filmed the show Friday night at WB's Stage 5 in front of a live studio audience (remember those days???!!!), it is traditional, of course, for the cast to take a bow as a thank you to the audience.  We all lined up behind the stars backstage.  I mumbled I was going to pass on the curtain call and just hang back. Somehow the star, Patricia Heaton, caught wind of this and came up to me and said I must take a bow stating, "There are no small parts, Phil...only small actors".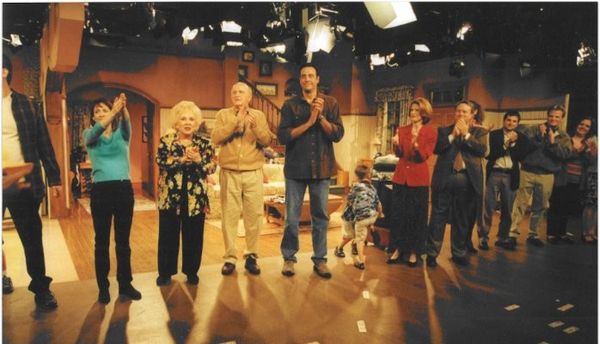 Photo left: Phil with Ray Romano / photo center: Curtain call with the stars: Ray Romano, Patricia Heaton, Doris Roberts, Peter Boyle, Brad Garrett, the twins and the rest of us!