Robin and I wrote "Hold Me Close" after our album Girlfriend,  "The New Me" was released.  It was the summer of 1998 and we were driving up to play at A Day in the Garden, Woodstock '98 (no this was not the Woodstock reboot where they rioted...that was 1999).  Anyway, Cher had just released "Believe" and it was a massive hit.  It came on the radio on our drive up to Yasgur's Farm and I was very much into it.  This song really brought vocoding (using the extreme setting in Auto-Tune) to the mainstream. Our band was "indie" as they say.  But, I love Pop music and often caught a lot of grief from my musician friends about this but...there is a reason Pop music has such a firm standing in music (because of huge hooks and A game Songcraft).
This trend towards remixes was not really new.  DJs were creating house and dance tracks in the clubs throughout the USA during the 1990s (and even in the 1980s).  I knew a DJ, Paul Wallace, in NYC.  Pauly heard our original track and asked to remix it.  He produced "Little Things (the RubiLove Remix)" using his MPC and I loved it...we gave the DJs the separated tracks and they just tore it up.  I remember going down to Times Square one night when DJ Pauly Love played it live for the first time at a club called Runway '69.  All these people were dancing to it and...I got it:  House Music!  I loved it!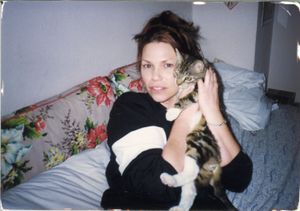 Robin with our cat, Ralphie, in August 1998 in NYC.  Holding him close.  Photo by: Phil
We moved to Los Angeles in 1999 where I met an LA-based DJ called Ryebot.  Ryebot was incredible.  He cited an old-school remixer named Cold Cut as a major influence on him.  Ryebot took the session tracks from "Hold Me Close" and produced the remix "Hold Me Close (Ryebot's Coldtree Mix)".  Check it and his earlier Girlfriend remix, "Ryebot's Girls Need Boys Remix".
Turn it up!!!
Love, Girlfriend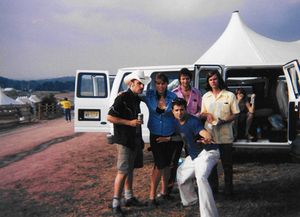 Girlfriend band photo at Yasgur's Farm:  A Day in the Garden, Woodstock 1998.  From Left to Right:  Dale May, drums, Robin Hyland, lead vocals, Center, Phillip Costello, lead guitar, Pemberton Roach, Bass and Phil Hyland.