Acting is an interesting job.  I was hungry for gigs when I was actively pursuing the craft in New York City and Los Angeles.  It was 1994 and I auditioned and booked this job in NYC to portray convicted and now executed serial killer, John Joubert. I accepted the offer from FOX's "America's Most Wanted" team to shoot the pilot.
There was no script made available to me and in a few days I was on a plane flying out to Omaha, Nebraska.  I was given a book to read on the trip out titled, Whoever Fights Monsters: My Twenty Years Tracking Serial Killers for the FBI by FBI veteran, Robert Ressler, the man who coined the phrase "serial killer" and advised Thomas Harris on The Silence of the Lambs.  Had I read the script in NYC I may have passed because this subject is sick and I was not "feeling" portraying this sicko who was currently on death row in Nebraska.  But...I needed to pay some bills.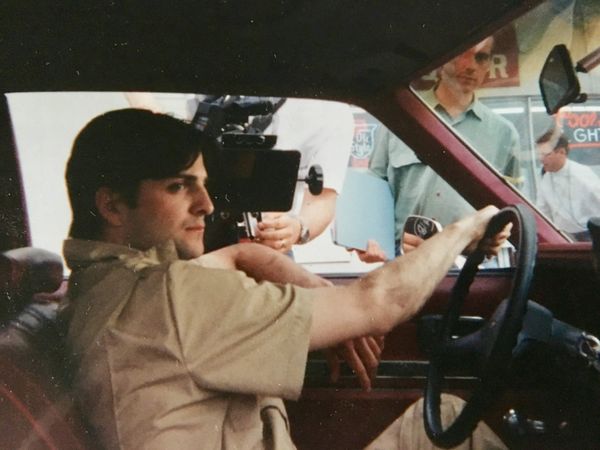 I read Robert's book and he and I spent time together before we stared shooting and throughout the shoot.  I asked him a lot of questions and it was certainly a cool experience to get to spend time with a former FBI agent and learn about this subject.  It was an eye opener and it was (and still is) hard for me to comprehend how people can become so deranged.  But, if you read his book you will see the early indicators in these criminal's lives that push them over the edge.
Switching gears to camera gear (simply because I like the production side of film making in addition to the on camera side)...behind the scenes photo is me in the Nova picture car being shot by a 16mm Aaton camera.  My Director, Richard Dallett, is seen through the windshield.  We're still friends to this day BTW!  Anyway, Aatons are French made motion picture cameras and they were known for being very versatile and nimble (lightweight).  Today, obviously this type of job would be shot using a RED or Alexa camera. Here's the video of the pilot:.
While jobs like this won't garner you an Emmy award...they were definitely interesting for me to do and I always learned something.  And I always enjoyed the behind the scenes mechanics of filmmaking.  It takes a small army.  Hey...thank you for reading! ~ Phil