My sister-in-law, Lisa, has a show on TLC called, "Long Lost Family".  It chronicles adopted kids (now all grown up) who are desperate to locate their birth parents in order to make that biological family connection and
know
where they come from.  It is a riveting show that touches on every emotion.
I am lucky that I
do
know where I come from.  Most of what I know of my ancestors was spoken to me from many family members.  Lots of family dinners sharing memories and one family tree project my brother and I did in elementary school (which I loved doing).  My father had a great memory for dates and places and names.  So, I have a fairly rich knowledge of who my forebears were.  
My great grandfather, Coleman Benedict (pictured below looking at his pocket watch in this Staten Island NY photograph (from a glass negative)), owned a jewelry store in lower Manhattan NY called Benedict Bros. They were the creme de la creme in their day.  Coleman owned the camera, taking this picture of their foursome. It seems he was in a position to own and experiment with all the latest gadgets.  He would have loved 2017!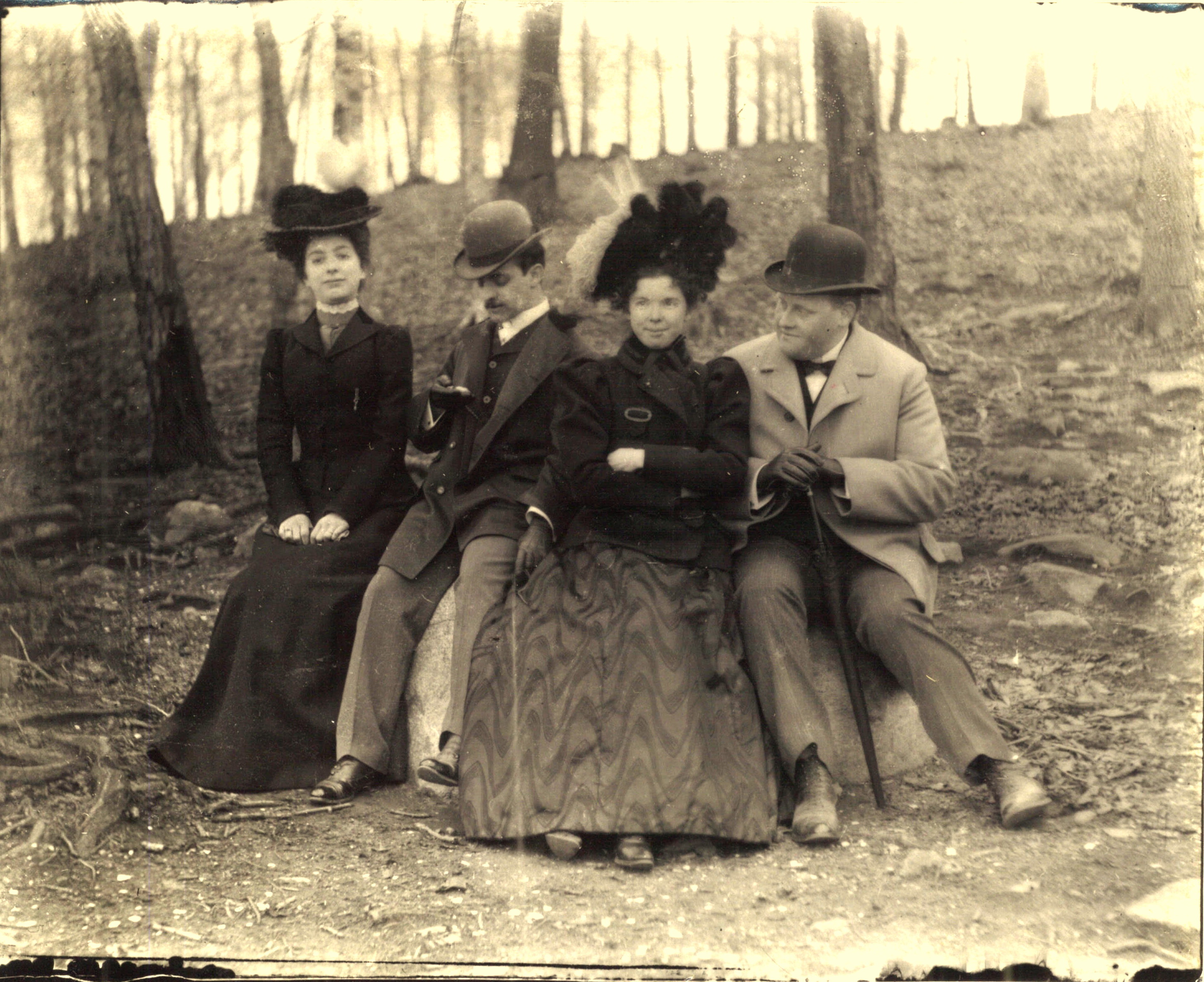 This is my grandmother, Grace Benedict Hyland's, side of the family and she told me bits and pieces of growing up with Coleman, her father.  Coleman's family came over from England while my grandmother's husband's family emigrated from County Cork, Ireland.  Both families were entrepreneurs owning their own stores.
It was definitely "The Good Ole Days" of prosperity and prestige.  The family maintained their glimmering business in Manhattan and retreated to the country of Staten Island.  
Coleman's father had an estate on Staten Island (he moved there from Brooklyn) and he built his house on it (see photo below) and then built other homes for his children including the one my grandmother grew up in.  He called the estate Ravenhurst. 
And then came the Great Depression and the family lost everything I am told.   
I am drawn to their story, obviously, since they are entwined in my family tree, but I am also drawn to their skills and determination and Coleman's joy embracing the latest technologies of the time.  Most people enjoy fine material goods.  I love a nice watch and, even more, a fine acoustic guitar.  I discovered the Guild Guitar brand when I lived in Manhattan and the sheer quality of that instrument certainly played a role in me crafting original songs.  It became my go to instrument.  See how I'm trying to tie this into music ;)?  Well, I guess I too want to be a craftsman in the family.  Maybe not as a jeweler or a dry goods seller but...as a songwriter and performer.  I have a feeling my great grandfather Coleman would be the kind of man that would want to shoot a music video and exploit it on social media.  I love this shop sign below, "Keepers of the City Time".  Maybe I am a keeper of the city time documenting moments in 3 to 4 minute pop songs.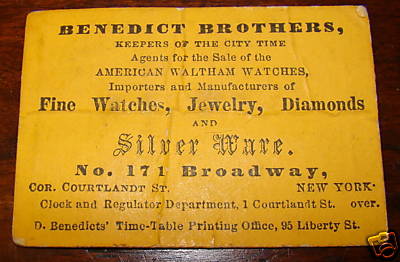 From an early age in the 1970s, my grandmother would take me over to MACY's and Lord & Taylor's in Herald Square.  The ride on the Staten Island Ferry and the subway uptown...unforgettable.  I saw my first breakdancers (and heard rap music for the first time) on the ferry with their cardboard mats to spin on.  It was an eye opener for this Southern boy (I was born and raised in Virginia). 

When I was a teenager I was allowed to go into the city with my brother and alone eventually.  I fell in love with NYC.  I wound up living there in the '90s.  I made a living painting art galleries in SoHo and helping assemble art installations.  I was an actor, a stage manager, a singer-songwriter, a stagehand, a sous chef, a process server.  I met the fine artist (before he became an international art sensation), Ryan McGinness (also from my homestate of Virginia), and knew...the moment I laid eyes on him at a gallery opening...this guy is the next Andy Warhol!  Sure enough!  I was fortunate to have him design my debut album artwork and promo materials for my band. 

So now I leave you with with a few more photos and side notes from my great grandfather's time here on earth:

Coleman's store in lower Manhattan had a large clock hanging on the outside of the building and everyone passing by set his watch to "Benedict time".


My grandmother's house is pictured below with her as a 10 year old perhaps sitting on the front steps.  It was only about 50 yards away from her Grandfather's house – behind the camera, according to my Uncle Peter.   Her father, Coleman, the amateur photographer, according to my grandmother, was forever asking his family to pose for photos.   
My grandmother said that her grandfather had orchards, stables, a man to tend all of the horses and carriages, etc.   She recalled riding with her Grandfather in a carriage behind horses enroute to church in Port Richmond, Staten Island.  According to my Nana her grandfather would call her father and mother on the phone and say "Send Grace over."  when she was a little girl.  Apparently Grace was his favorite.  Coleman had one son, Read, and daughters Margie, Evelyn, Grace and Kathryn.  Read died from pneumonia after a fall through the ice on Martlings pond.  Read was only about 17 yrs. old.  There was another son who died at perhaps 2 years old and he would have been gone by the time Grace was ten years old.   Nana always referred to him as "brother boy".   My Uncle Pete shares this memory:  I had never ever seen a photo of Read until Nana died.  When I went through her dresser drawers in her bedroom I discovered an envelope of negatives.  They were all of Read.