I recorded a new version of my classic song Lost Point.  It's called Lost Point (Out of Time).
I was challenged by my producer and co-writer, Jon La Croix, on this new version to come up with a chorus (or a 3rd part to the song).  So we did this together after a fair amount of back and forth (piano and guitar work) which pushed me as a writer.
You can listen to my original DEMO of Lost Point which does not essentially have a typical chorus.  Just a bunch of "whoa whoa whoas".  I really like the original demo which made its way fully produced on my debut album Girlfriend, "The New Me".  The demo was recorded by my old friend, Rob McCulloch (that's me on the left and Rob on the right outside his East Village apartment where we 8 tracked with Dale May (drums) and Robin Hyland (back up vocals)).  You can hear the studio version here (produced by John Morand at Sound of Music Recording Studio):  Lost Point Girlfriend album version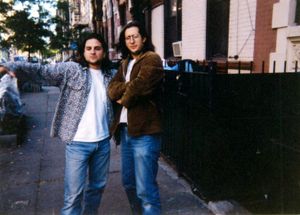 I've always enjoyed performing this song live because it came from a real experience when I was very young (probably about 23 or 24 years old).  After I began playing this song out...most nights after a show someone would come up and want to talk about "Lost Point".  Its a break up song and people relate to it.  I pretty much wrote the whole song in one sitting in my empty railroad apartment in New York City.  My girlfriend had left me and I was in a dark place.  I think I finished up the lyrics on the subway going to and from work. 
Tom Petty, in interviews I've read on him and his songwriting process, says songwriting is like going fishing every day.  Some days you catch a fish and some days you go home with nothing.  He also mentioned songs just coming to him and flowing out of him.  "Lost Point" was like catching a fish that day and it literally flowed out of me.  I did noodle with that picking progression on the guitar for some time.
The band REM would get a song or two out of ONE song.  I think it was "Seven Chinese Brothers" or some song from one of their early albums.  They have an alternative version that I always enjoyed listening to with completely different lyrics.  If you can figure out what Michael Stipe is saying please text me!
I love trying different versions of a song and experimenting with different mixes.  Sometimes the results are great and other times I'm like....damn, I should have just left it alone.  Sometimes I'll Frankenstein parts from one song and bolt them onto another one I am working on.  Sometimes I just crumple up the paper and throw it all away and stew on how much I suck.  Songwriting is brutal.  It is like boxing with yourself.
Robin's brother, Jon, used the original version of "Lost Point" in his indie film, Went to Coney Island on a Mission from God... 

It fit well with one of the characters lost in mental illness.  I was so glad Jon liked the song enough to want to place it.  And it was doubly cool that he had Midge Ure score the film.  I love Midge's '80s band Ultravox!
I almost passed on doing this new version of "Lost Point" simply because I didn't want to revisit this lonely memory and also because I'm a different man now as I am muuuuuuch older and sober...certainly was not clean and sober back then.
Anyway, if you're digging this song know that I appreciate you listening to it and reading this little blog post here.  Thank you.  Any day I get a chance to sing or play guitar or write/record a song...that's a GOOD day.  It's like catching a fish.  ~ Phil
PS special thanks to Dale May Photography for all the great pictures (below) and for the iTunes & Spotify images I am using.  Thanks to Greg Mayberry for exec. producing these tracks and thanks to guitarist Steve Harriton and Jon La Croix for bringing their massive talents to "Lost Point (Out of Time)".  We'll see you soon on the next song!