Touring:  Ins and Outs
Update post event on 10/22/2018 by Phil Hyland
Now that you've recorded your album (or single) and released it...did you factor in a marketing and touring budget? 
Is everyone in your band REALLY up for touring and spending loooooong hours on the road together in a rental car or van (for example we toured Boston to Key West FL)?  How can you pull this off if you have rent and bills to pay?  Will it be worth it for the band and YOU personally? The short answer is YES.  Do it! If you don't do it now (and plan ahead so you do it right)...you may never do it.  We had a lotta fun, made a fair amount of mistakes but we learned so much and it was a GREAT experience! 
What region do you want to tour in (in order to expand your fanbase)? 
Who do you know in these regions?  Any friends of family you can stay with while in their town? This will keep your travel and hotel costs down.   
Are these college or music towns where there are ample clubs to get booked at?  Why not tour cities that you've always dreamed of traveling to?
Camille - Find a trustworthy friend (who has a passion for music) to be your manager. Our friend Camille was great! She managed our mailing list and merchandise at shows and also checked in with the venue operators prior to each gig on our tour. This freed us up to dress, set our equipment up and sound check! Plus Camille was fun to travel with!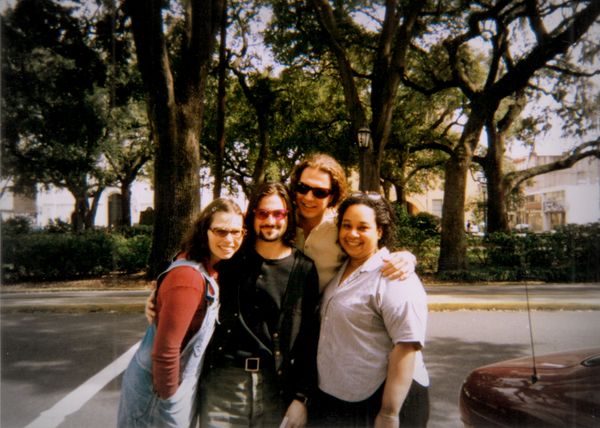 Photo: Girlfriend, Southern Tour, Boston to Key West FL, stop in Savannah GA.  Robin Cyer, Phil Hyland, Paul Stache and our Manager Camille. 
I learned the hard way on our Boston to Key West FL tour.  Most of the tour went smoothly but...I was driving on a suspended license (which I was really not aware of...having neglected to pay for a speeding ticket in NY).   
We were deep into Florida playing a gig in Deland and then had to drive to Clearwater FL to sleep over at a relatives house (a 148 mile drive).  Well, we wound up rolling into Clearwater at around the crack of dawn and I accidentally set off the house alarm system. The cops came and that is when I found out about my suspended license.  I got let off with a warning but I could have gone to jail or gotten a major ticket. Plus I looked like a wild man with my long hair, no shirt, and my rag tag band of minstrels. So, be mindful of your mileage to your next tour stop and really pad in time to get to your next stop at a reasonable time.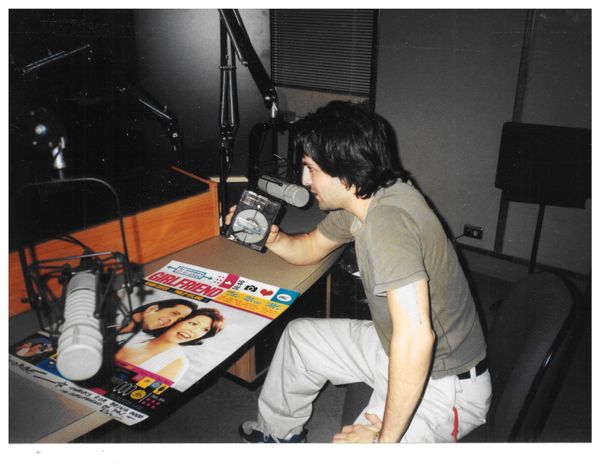 Phil talking up the album and performing songs on 88.9 WCVE-FM npr public radio, Richmond VA. Photo by Robin
Gas money?  Food?  Who pays for it?  We paid for these travel expenses out of any proceeds we made at the gig.  Most of the venues, if they served food, fed us and comped us drinks. 
Staying Healthy on the Road: Our moderator, music jounalist, Stephen Peeples, brought up this topic and asked each panelist what we do to stay healthy on the road.  My answer was:  Bee pollen in tablet form.  My mother-in-law is a professional songwriter and passed this tip onto me and Robin in our early days of performing.  It comes in tablet form.  The other responses we quite obvious:  getting plenty of rest and excercising.
Be an opening act!  Reach out to bands you love and ask to open for them. Most decent venues (that book local and national acts) that book your act regularly will open many doors for you.  Example, Shine in NYC invited us to open for '80s New Wave icon, Howard Jones (one of Phil's favorite recording artists). 
Cafe gigs and small gigs can be the best experience ever. These were some of my favorites to play.  Intimate and the sound was usually controllable and good.
Sometimes playing in a bar sucks.  Why?  Because unless the crowd is there to specifically see and hear you/your band...they are really there to drink and you are, essentially, background music. 
Get your single placed in a movie (indie film, short, music video, or major studio release) and tour under that hat. 
Talking points for Phil: Experience related to preparing a music tour with emphasis on incorporating the radio tour (colleges mainly) with live performances later that evening (on campus or off). 
The importance of the song/album.  Promoting and touring behind your single or album.  Tour support of your best product (i.e; a GREAT song and/or album!) Targeting PDs PMs in regions. College tours. Your product must be of the highest quality.  People don't buy sub par goods.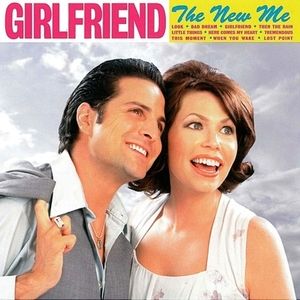 Physical merch.  What do your fans really want?  Cool T shirts? Buttons? Cassette tapes? CDs?  Download cards? Vinyl? Poster? I had a lot of fun doing photo shoots with VERY talented professional photogs and then working with amazing graphic designers to create high quality posters, post cards and band images.  These really helped on the road with promoting and most clubs, cafes and college radio stations had no problem posting a cool poster (or asking us to autograph it!). We also had a lot of fun silkscreening our own band T shirts.  Win win.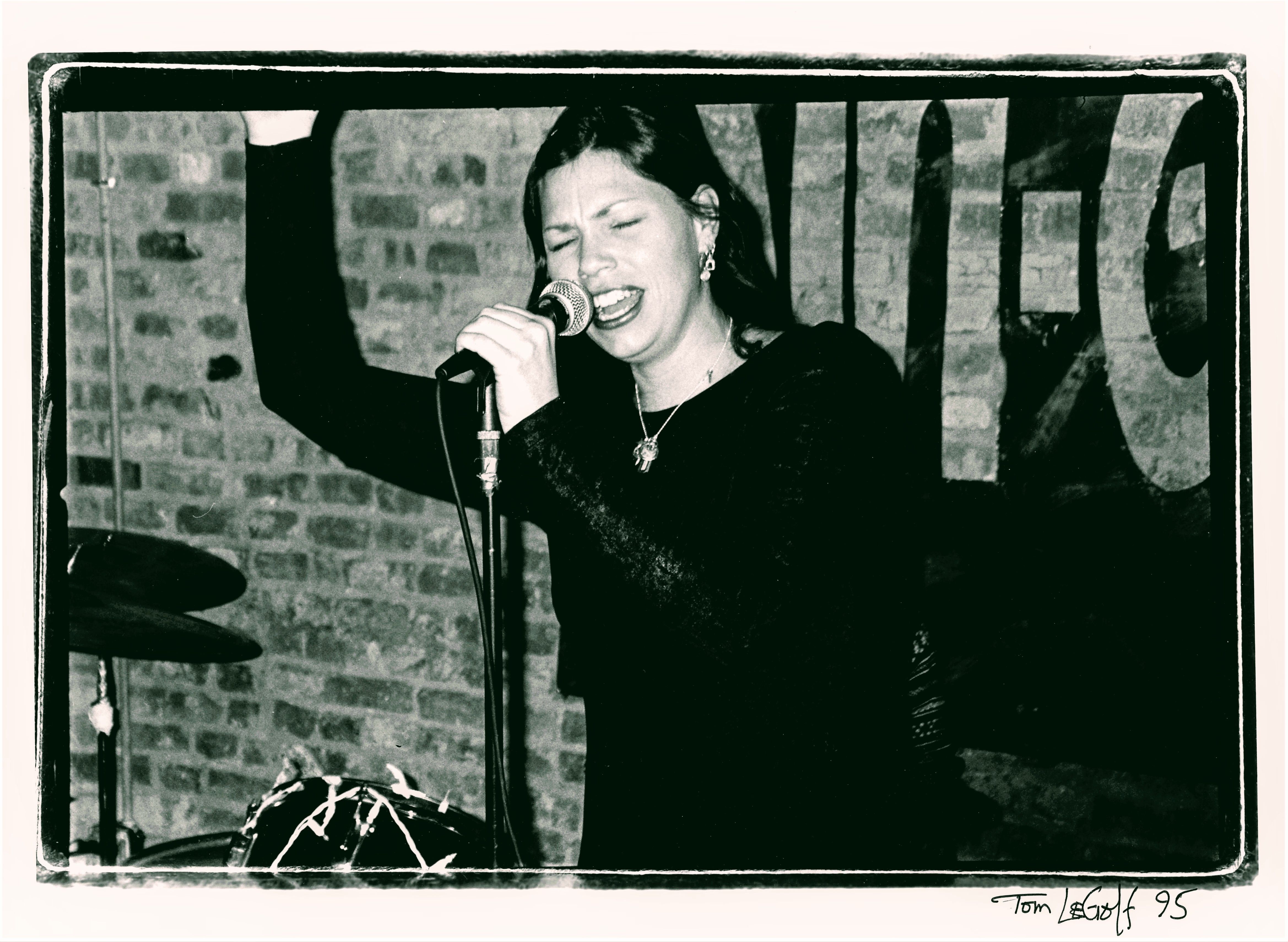 Robin performing at Cafe Sin-e where we had a regular gig.  NYC 1995
Talking points: The importance of residencies (or regular gigs in your town) and how that garners a deep and loyal fan base (email mailing lists). 
For me and my lead singer, Robin (pictured above on the mic), playing at Cafe Sin-e was a major bucket list venue for us as a performing group.  At the time Jeff Buckley had recently recorded his "Live at Sin'e" album for Columbia Records there and it was probably the hottest small venue to play in New York City's East Village.  U2,  Sinéad O'Connor, Marianne Faithfull, Shane MacGowan, Hothouse Flowers, The Waterboys, Allen Ginsberg, and a slew of other famous and not so famous acts played at Sin-e or came to watch their friends play there.  When we finally booked a time slot there...it really felt like a HUGE achievement and validation for us as songwriters.  This club only selected the best. We wound up getting regular gigs there and our mailing list grew and grew and the place was standing room only.  And we got paid. Priceless. 
Targeting your favorite music festivals large or small.  YOU have to do the research and homework and learn how to professionally make contact with the bookers.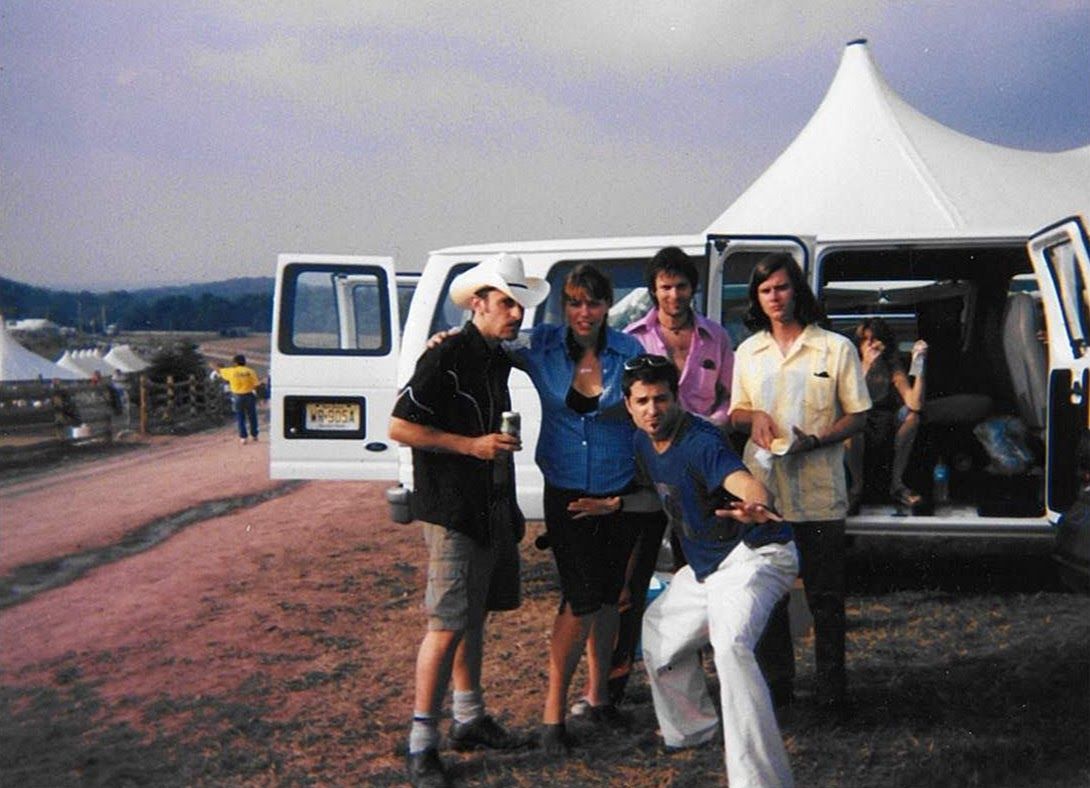 Girlfriend, the band, post gig at Yasgur's Farm, A Day in the Garden, Woodstock 1998, Bethel NY 
In stores - still a great way to promote and sell your music and they are really fun and easy to set up (acoustic "unplugged" style). 
Remember....have fun.  Remember why you got into music and songwriting in the first place.  I lost sight of that at one point and it messed me up and my perspective.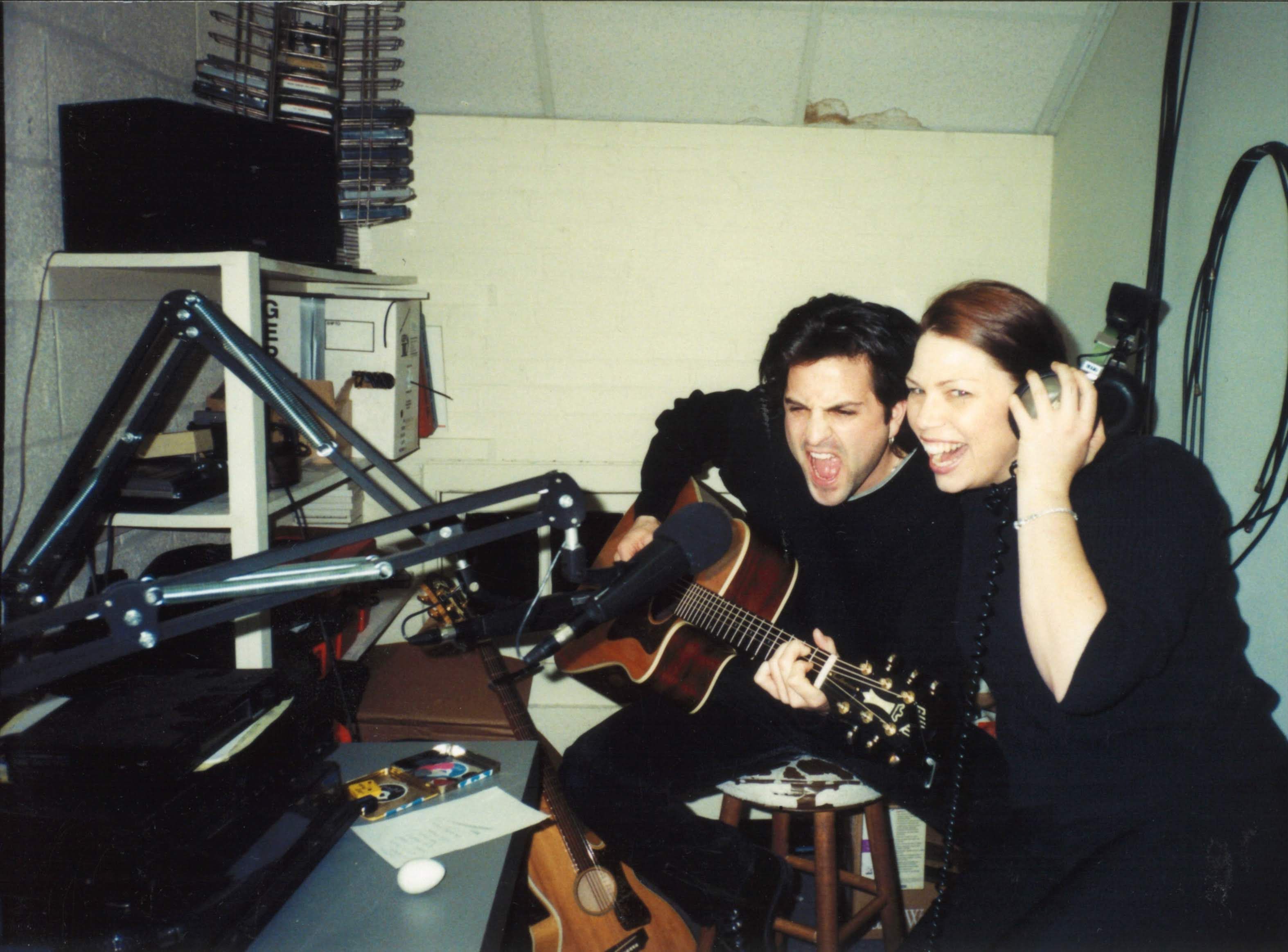 Photo:  Phil & Robin, Univ. of Mary Washington College radio tour - Play live on the campus radio, have them rotate your single, then play a live show that night. 
Salons and House concerts:  Why not.  And probably a great option during your tour.  Change it up a bit. Not my favorite type of venue for playing out but I never had a bad time/experience doing these.  You may pick up a fan or two and sell some merch. 
Busking?  Absolutely, you gotta try it at least once!  Talk about breaking out of your comfort zone.  Do it the afternoon of one of your club gigs. Great way to shamelessly promote your gig and...you never know what will happen. I did it in the NYC subway system and in some public parks.  Just make sure where you plant yourself does not require a permit to perform.  A lot of major cities require this now and spots become territorial with other buskers. 
Promotion during before, during and after your tour:  Types of PR, why I chose Bandzoogle as a website and why I use Spotify for Artists: 
A friend of mine turned me on to the band website provider, Bandzoogle.  He showed me his website one night on his phone and I was really impressed with how great it looked.  I wound up purchasing a yearly plan with Bandzoogle for about $150.00. This is a standard account but I still get a ton of bang for my buck and my web appearance is completely controlled by me.  There are a bunch of good web site providers out there but bandzoogle really caters to the musician. You can even run your merchandise store through them. Then, of course, you need to have your FB, Instagram and Twitter pages set up.  But driving traffic to your website keeps you in control. 
 
---
This is a really great article from Bandzoogle about streaming sites.  This is yet another reason I love Bandzoogle because of all the support they put into their service.  Check it out: Streaming for Musicians:  The Data that Matters Most 
Guest post by Lisa Occhino 
I pasted some paragraphs from the author's article titled:   
Using metrics from your Spotify for Artists account:   
As we're sure you've heard countless times over the last several years, the chances of making a living solely off of streaming income are slim to none. But does that mean that making your music available on streaming services is pointless? Far from it. 
Major platforms like Spotify, Pandora, and Apple Music have begun rolling out robust dashboards for artists to not only track and analyze how your songs are performing, but also to provide you with invaluable streaming data that can help you understand who your audience is, where to tour, how to most effectively spend your marketing dollars, and much more. 
Once you start regularly checking in on your streaming data, you'll be able to make more informed decisions about different aspects of your music career, such as: 
Where to route your next tour (based on top listener locations) 
Which songs to include in your setlist (based on song and location data) 
Which audiences to target for social media ads (based on listener demographics) 
How well your marketing is working for various releases (based on album data) 
Organizations to reach out to for partnerships (based on listener demographics) 
Artists to go on tour or collaborate with (based on the other artists your fans listen to) 
Which single to put more promotional effort behind (based on song and playlist data) 
Which tracks to pitch to local radio stations (based on listener demographics) 
You can even take this a step further and cross-reference your streaming metrics with your Next Big Sound analytics to discover some really powerful insights about your audience, and understand which efforts are feeding into one another. 
But keep in mind that no matter how much data these platforms offer, none of it really matters unless you actually make an effort to track it, analyze it, and then turn it into tangible action steps to grow your music career. 
Thank you, City of Santa Clarita CA for inviting me on this fun panel! :)  ~ Phil Hyland